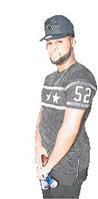 Priince Muzik
Popular producer and social media promoter Gaza Prince has announced a name change to Priince Muzik.
The talented promoter said the name change is part of his career development. He explained that he will be venturing into different fields, and, as such, the name he had might not work for him on a professional level.
The name change seems to have began working wonders already as he has now signed with Studio 91 Records.
"During this new journey, my goal is to incorporate genres beyond reggae and dancehall music," he said.
Priince Muzik's producing works paid off in 2012 when he released his first rhythm, 'Freddy Krueger', which featured artiste such as Masicka, Deablo and many more. In 2014 he produced his second rhythm, 'Untroubled', which featured artiste such as Munga, Gully Bop, Black Ryno and many more.
"My main goal is to produce and promote the latest and also expose new artistes into the music world," said Priince Muzik, who so far this year has released the 'Happy Autumn' and 'Prize' rhythms.